Karen Penny, 55, resumed her 20,000-mile hike around the British Isles in April. On July 5, he arrived on the island of Guernsey, as part of his trip along the Channel Islands. So far she has traveled around 15,127km around the UK, roughly halfway.

In February 2020, shortly after arriving in the Shetland Islands, COVID-19 postponed its walk. After isolating herself with her family for a few months, she resumed in August 2020. However, she was unable to return to Scotland due to restrictions. Instead, she opted for a reverse trip from the coast of Wales to the east coast of England.
At the end of June 2021, she walked from Norwich to Lincolnshire. Here she made the impromptu decision to end her part of the Channel Islands as soon as travel was cleared.
A few days ago, she set foot in Guernsey and walked to Saint-Pierre-Port to catch a ferry to Alderney. She then traveled to Alderney. She and a local companion are now walking along the rugged cliffs of the south coast of Guernsey to Cobo.
She expects to complete her Channel Islands stage at St. Helier in Jersey on July 19. Then she returns to the mainland, where she follows her compass north. She intends to return to the Shetlands in the fall.
Penny continues her 24 mile daily walking regimen, through wetlands, salt marshes and sometimes even prison properties. She's slept in a variety of colorful crash pads: abandoned castles, gardens of gentle strangers, and bird shades. Locals who follow her Facebook page often guide her around their area.
So far, Penny has raised $ 120,000 for Alzheimer's disease.
About the Author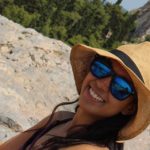 Kristine De Abreu
Kristine De Abreu is a writer (and occasional photographer) based in sunny Trinidad and Tobago.
Since graduating with a BA in English and History from the University of Leicester, she has pursued a full-time writing career, exploring multiple niches before embarking on travel and exploration. While studying for an additional travel journalism degree with the British College of Journalism, she began writing for ExWeb.
Currently, she works in a travel magazine in Trinidad as an editorial assistant and is also the Weird Wonder Woman of ExWeb, reporting the natural quirks of the world as well as general stories from the world of exploration.
Although not a climber (yet!), She hikes in the bush, is known to befriend iguanas, and quotes The Lord of the Rings trilogy from start to finish.